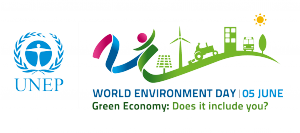 World Environment Day was established by United Nations Environment Programme (UNEP) to mark the opening of the 1972 Stockholm Conference. Today we celebrate the 40th anniversary.
WED thematic celebrations have in the past included caring for the earth and water, the ozone layer, climate change, desertification and sustainable development.
This year the world leaders will once again meet at the United Nations Conference on Sustainable Development twenty years after the historic Earth Summit in Rio de Janeiro, 1992.
The Green Economy touches almost every aspect of our lives and concerns our development. It is about sustainable energy, green jobs, low carbon economies, green policies, green buildings, agriculture, fisheries, forestry, industry, energy efficiency, sustainable tourism, sustainable transport, waste management, water efficiency and many more.
2012 has also been declared by the United Nations as the International Year of Sustainable Energy for All. World Environment Day this year will complement this global concern with the official tagline – Green Economy: Does it include you?
Last year in Ireland:
"In Ireland, the furniture retailer IKEA organized a painting and poetry competition along this year's WED Theme of "Forests Nature at Your Service". Budding landscape artist 7 year old Matthew Gibson from Bangor painted an oil on canvas woodland scene whilst Botanic pupil and young poet Rebekah Unsworth (aged 9) created an expressive and colourful short poem about woodland paths featuring flowers, trees, streams and animals.Ireland's Environmental Protection Agency also got into the spirit of WED by organizing a competition where followers of the EPA on Twitter stood to win a break at one of the many 'green hotels' in Ireland."