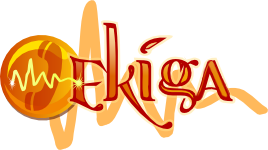 Ekiga (formely known as GnomeMeeting) is an open source SoftPhone, Video Conferencing and Instant Messenger application over the Internet.
It supports HD sound quality and video up to DVD size and quality.
It is interoperable with many other standard compliant softwares, hardwares and service providers as it uses both the major telephony standards (SIP and H.323).
Main Features of the Ekiga Softphone in a nutshell Version 3.2
Ease of use with a modern Graphical User Interface.
Audio and Video free calls through the internet.
Free Instant Messaging through the internet with Presence support.
Audio (and video) calls to landlines and cell phones with support to the cheapest service providers.
High Definition Sound (wideband) and Video Quality up to DVD quality (high frame rate, state of the art quality codec and frame size).
Free of choice of the service provider.
SMS to cell phones if the service provider supports it (like the default provider).
Standard Telephony features support like Call Hold, Call Transfer, Call Forwarding, DTMF.
Remote and Local Address Book support: Remote Address Book support with authentication using the standard LDAP technology, Local Address support in Gnome (Evolution).
Multi platform: Windows and GNU/Linux
Wide interoperability: Ekiga use the main deployed standards for telephony protocols (SIP and H.323) and has been tested with a wide range of softphones, hardphones, PBX and service providers.
This is the seventh stable release of the 3.2 version of Ekiga
Big news for this release:
Fix many connection issues (nat ports), see below
Fix major bug for windows uninstall
No windows-specific issue known
User-visible fixes
Use NAT ports instead of local ports for RTP, fixing many connection issues
Add workaround for "In some cases ekiga answers always Busy Here"
Fix crash in the avahi code
Set the default audio and video devices
Fix Call buttons do not work
Add bpp16 (RGB16) support
Add partial support for IPv6
Fix number of users found on ekiga.net LDAP directory
Fix connection type setting in assistant
Use a decent connection type by default (DSL 128kb/s uplink)
Check off iLBC, CELT32, CELT48 and G722 audio codecs by default
Fix possible crash when PTLib code accessed by thread not created by PTlib
Fix issue when deleting a safe object
Fix possible NULL pointer access if get multiple NOTIFY messages on a REFER
Protocol fixes
Fix strange issue with SIP call diversion (302 response) to the same endpoint
Change to only unregister those contact addresses we successfully registered
Fix incorrect change to AlertingPhase in H323
Change authentication failure to be fatal and SIP handler removed
Fix double authorisation failure leaving SIP handler in the wrong state
Fix SIP REFER completion on receiving NOTIFY with id parameter
Fix authentication issue when can get to SIP server via two interfaces
Fix address translation of REGISTER contact fields when STUN is not used
Fix locating correct authorisation credentials for INVITE
Fix correct test handling RFC3261/8.2.2.2 merged requests and other "multi-path" received INVITE requests
other minor fixes
Build fixes
Fix gdu (gnome-doc-utils) configure option
Replace deprecated functions in gtk >= 2.18
Fix build with binutils-gold
other minor build fixes
Windows port fixes
Fix major bug where the uninstaller could remove non-Ekiga files
Fix starting Ekiga from last page of installer
Fix language selection during installation
Update version of dependent libraries
Allow to create executable from release or from git/svn
Add Dutch and Romanian translations of Windows installer
Add all help localisation files to the installer
Fix compilation error on std::freopen on newer gcc
other build fixes
Distributor-visible changes
None
Translation fixes
Updated translations: bn_IN, eu, gu, kn
New translations: ast
Updated help translations: None
No security fix in this release.